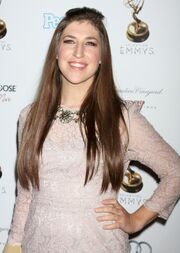 Mayim Hoya Bialik (born December 12, 1975) is an American actress and neuroscientist widely known for her roles as Blossom Russo on NBC's Blossom (1991–1995), and currently as Amy Farrah Fowler on CBS's The Big Bang Theory, for which she was nominated for the Primetime Emmy Award for Outstanding Supporting Actress in a Comedy Series.
Filmography
Edit
Film

| Year | Title | Role | Notes |
| --- | --- | --- | --- |
| 1988 | Beaches | Young Cecilia 'CC' Carol Bloom | |
| 1988 | Pumpkinhead | Wallace kid | |
| 1994 | Don't Drink the Water | Susan Hollander | |
| 2005 | Kalamazoo? | Maggie Goldman | |
| 2011 | The Chicago 8 | Nancy Kurshan | |
| 2011 | The Dog Who Saved Halloween | Medusa | Voice only |
| 2012 | Scooby-Doo! Music of the Vampire | Maria | Voice only |
Television
Year
Title
Role
Notes
1987
Beauty and the Beast
Ellie
Episode: "No Way Down"
1988
The Facts of Life (TV series)
Jennifer Cole
Episodes

"The Beginning of the Beginning"
"The Beginning of the End"

1988–1989
Webster
Frieda
Eight episodes
1989–1990
Empty Nest
Laurie Kincaid
Episodes:

"The R.N. Who Came to Dinner"
"Harry Knows Best"

1989–1990
MacGyver
Lisa Woodman
Episodes:

"Cease Fire"
"Twenty Questions"
"Hearts of Steel"

1990
Doogie Howser, M.D.
Candace
Episode: "Ask Dr. Doogie"
1990
Blossom Pilot
Blossom Russo
1990
Molloy
Molloy Martin
Canceled after seven episodes
1990
Murphy Brown
Natalie
Episode: "I Want My FYI"
1991–1995
Blossom
Blossom Russo
1991
Sea World's Mother Earth Celebration (on Nickelodeon)
Herself
1992
The Kingdom Chums: Original Top Ten
Petey
1993
The Hidden Room
Jillie
Episode: "Jillie"
1994
Don't Drink the Water
Susan Hollander
1994–1995
The John Larroquette Show
Rachel
Episodes:

"The Book of Rachel"
"Rachel and Ton"
"Rachel Redux"

1995-1996
The Adventures of Hyperman
Brittany Bright
Episodes

Voice only

1996-1999
Hey Arnold!
Maria
Episodes

"6th Grade Girls/The Baseball"
"Dinner for Four/Phoebe Skips"

Voice only

1996
The|Real Adventures of Jonny Quest
Lucy
*Episode: "The Alchemist"

Voice only

1996
The Real Adventures of Jonny Quest
Julia/French Woman
*Episode: "Assault on Questworld"

Voice only

1997-2000
Recess
Kirsten Kurst
Episodes

"The Break-In"
"The Girl Was Trouble", "The Ratings Game"

Voice only

1997
Johnny Bravo
Tour Guide
Episode

"Going Batty/Berry the Butler/Red Faced in the White House"

Voice only

1997
Extreme Ghostbusters
Girl in Future
*Episode: "Ghost Apocalyptic Future"
1998
Welcome to Paradox
Rita
Episode: "Alien Jane"
2003-2004
Kim Possible
Justine Flanner
Episodes

"The Secret Files"
"Partners"

Voice only

2005
Katbot
Paula
Voice only
2005
Fat Actress
Herself
Episodes:

"The Koi Effect"
"Holy Lesbo Batman"

2005
7th Heaven
Cathy
Episode: "Dick"
2005-2007
Curb Your Enthusiasm
Jodi Funkhauser
Episodes:

"The Bowtie"
"The TiVo Guy"
"The Ida Funkhouser Roadside Memorial"

2009
Saving Grace
Esther
Episode: "Mooooooooo"
2009
What Not to Wear
Herself
2009
Bones
Genie Gormon
Episode: "The Cinderella in the Cardboard"
2010
The Secret Life of the American Teenager
Dr. Wilameena Bink
Episodes:

"You Don't Know What You've Got..."
"Just Say Me"
"Let's Try That Again"
"The Rhythm of Life"

2009
'Til Death
Herself
Episodes:

"The Break-Up"
"Merit Play"
"Baby Steps"

2010–present
Big Bang Theory
Amy Farrah Fowler
Video games

| Year | Title | Role | Notes |
| --- | --- | --- | --- |
| 2003 | X2: Wolverine's Revenge | Bush Pilot, May Deuce | Voice only |
Community content is available under
CC-BY-SA
unless otherwise noted.